Brief of the Diety:

Shivling of Tarkeshwar Mahadev is made by Black stone. It is having a 9" diameter.
Religious sect to which the temple belongs:
Parashar Vyas sect
Architecture of the Temple:
Important Architectural Characteristics: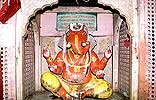 The temple of Shri Tarkeshwar has a marble floor. By the side of the chowk is the Jagmohan (Assembly) hall. In this hall are hanging four bronze gongs each weighting 125 kilograms.The ganesh idol as shown here seated and has left turned trunk.
Important Architectural Characteristics:

On the ceiling are the old pictorial depictions, charming and wondrous. From architectural angle, the temple is unique.

Material of Construction:

Lime stone, Sand Powder and Marble

Total Construction Time:
1 year
Religious aspects of temple:
Unique features of the temple:

A huge Shiva lingam, golden pictographs, a big bull of brass, big bronze gongs and bells give the temple a special identity.
Festivals & Fairs in Temple (Main Events):
Mahashiva Ratri, Deepavali, Annakuta and Nrisingh Leela are the special attractions of this temple. Every Monday is the day of special worship of Lord Shiva. Water and milk ablutions (Abhisheka) are held and Sandal pase, Kapoor, Agarer etc. applied to the lingam.
Timings:
Morning Time:
4.00 am to 11.30 pm

Evening Time:

Custom & Traditions of Temple:

The worship of the temple is performed by the Parashar Vyas families in their own tradition. Rituals and religious undertakings (anushthan) are performed under their guidance.

Details of Temple:
Sanctrum:
1
Sanctorum:
1
Verandah:
1
Garbh Grah:
1
Rasoi:
1
Issues requiring global attention for conservation, protection and improvement of the temple:
---