Cause of Establishment:
In the 17th century the idol of Bhagwan Mahabirji appeared miraculously from earth as a result of which this place was declared Atishya Kshetra or place extraordinary.
Brief of the Diety:

For the last three centuries the place has been a center of Jain faith. Popular belief goes that the idol appeared from ground in a miraculous way. Shri Amar Chan Bilala, a Digambar Jain of the village Basawa got the temple constructed here. Gradually this developed into the present splendidly sprawling campus.
Religious sect to which the temple belongs:
The temple has belonged to the Jain Community and Hindus in general and Digambar Jain community in particular. Digambar Janis have had a sway on all properties of this temple worship, oblation, festivals are held as per laid doctrine laid down for the Digambar sect of Janis.
Architecture of the Temple:
Important Architectural Characteristics:

The style of architecture is largely Jain style in character. Marble has been used in construction. Exquisitely elegant carvings on marble lend an exotic grace. Pictorial depictions on walls represent mythological themes there are beautiful golden oil paintings and gold-work on canopies and walls. The visitor is enthralled by the soul captivating beauty of the whole conception of the edifice. Three pinnacles bearing golden kalash attract the visitors from a distance. The rectangular edifice of marble and artistic delineation of religious themes in golden drawing in the circumambulatory path create a spiritual environment Red stone and marble have been used in construction.
| | |
| --- | --- |
| | |
| Material of Construction: | |
| Total Construction Time: | People believe the place to be 400 years old. Reconstruction, alteration and modifications from time to time have also taken place. |
Religious aspects of temple:
A central of vibrant spiritual life, worship and ritualism.
Unique features of the temple: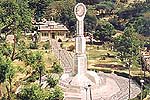 A very big annual fair takes place here. Millions of people then visit this temple. The temple trust extends various charitable and philanthropic services such as dispensary, aushadhalaya, school, library, rehabilitation of the invalids, promotion and extension of education, scholarships, cultural and literary activities and research and study in Prakrit language.
Festivals & Fairs in Temple (Main Events):
1. A big fair from 13th bright day of Chaitra to third day of the dark half of Baisakh., Mahabir Nirvan day celebration the fifteenth day of the dark half of kartik i.e. Deepawali.
Timings:
Morning Time:
5.00 am

Evening Time:

10.00 pm
Custom & Traditions of Temple:

Digambar Jain traditions and customs are followed here.

Details of Temple:
Sanctrum:
1
Sanctorumg:
1
Vandana (If any particular) in text:
Issues requiring global attention for conservation, protection and improvement of the temple:

The temple is sail to be 400 years old. An emerald stone idol of Shri Mahabirji, the twenty forth Tirthankar is enshrined in the sanctum sanctorum. A 52 feet high artistic marble pillar bears four statuettes of Tirthankars.
---
---
Copyright © 2001-2002 Deptt. of Devasthan, Govt of Rajasthan, Jaipur
Web Hosting by : Webzone India