Brief of the Diety: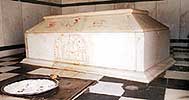 Shri Gogaji Maharaj was a chouhan warrior who laid down his life for being a martyr he was deified. He was invested with certain Super natural powers and it is said that he became a Nath. He commands respect of Hindus and Muslims both. People visited his temple annually and in his name is devotees reutilize poison whenever someone is bitten by a poisonous snake.
Architecture of the Temple:
Important Architectural Characteristics:

The temple of Gogaji is a happy combination of Hindu and Muslim style of Architecture. The temple is built on a high mound. Inside the temple is the shrine of Gogaji, is engraved statue can be seen in the form of a warrior riding horse, with a lance in hand and snake around is neck. Thus the statue appears to be of a valiant knight undauted and confident. The temple is visited by all caste and all communities.
| | |
| --- | --- |
| | |
| Material of Construction: | White and black marble tiles have been used in the temple which is of stone and lime mortar. |
Religious aspects of temple:
The temple is a centre of communal harmony and respected by all religious people.
Unique features of the temple:

Gogaji is one of the five renowned peers (valiant martyrs) with super natural powers. He is a local deity and he is highly venerated as he is capable of removing snake venom. Gogaji is worshiped not only in Rajasthan but also in Madhya Pradesh, Uttar Pradesh, Punjab, Haryana and Himachal Pradesh from where devotees in great numbers come to the place of Gogaji with their expressed wishes in the hope of getting them fufilled by the deity.
Festivals & Fairs in Temple (Main Events):
The temple is under the governance of the State Government. The department organizes a big fare which runs for one month from the Poornima of Sharvan to the Poornima of Bhadrapad every year.
Timings:
Morning Time:
4.00 am

Evening Time:

10.00 pm
Custom & Traditions of Temple:

As has been told earlier, the temple is a center of communal harmony. The people of all faiths and creeds pay their homage to Gogaji. The priests of Gogaji are Mohammedans of Chayal Caste.

Details of Temple:
Sanctorum:
1
Verandah:
1
Garbh Grah:
1
Rasoi:
1
Others:
Dharmshalas (Charitable Lodgs)
Vandana (If any particular) in text:
A prticular prayer is prescribed for Gogaji.
Issues requiring global attention for conservation, protection and improvement of the temple:

Since the temple is of a very secular nature and it commands the respect of all castes, all communities, all faiths, all creeds, all Hindus and all Muslims. This is of a special importance. The one month long fare in Bhadrapada is the time when millions of people visit Gogamedi. The plain on about 800 bighas of land. At this time, a cattle fair is also held. This place can be developed and it may occupy a permanent place on the tourist map of India. This can be converted into a beautiful religious and tourist place. The potential of this must be exploited.
---
Copyright © 2001-2002 Deptt. of Devasthan, Govt of Rajasthan, Jaipur