Religious aspects of temple:
Shri Charbhuja ji is Lord Vishnu himself. The four arms hold conch, discus, mace and a lotus flowers. The discus and the mace symbolize dynamic power, energy and prowess. The Rajputs and the gurjars hold a special reverence for this temple.
Unique features of the temple: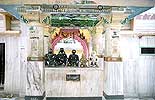 The Temple is extremely charming. It has been conceived and built on a grand scale. Out of the four principal seats of faith (Chardham), Shri Charbhuja Ji is the principal above. It is a center of Vaishnava faith and devotion. This temple is said to be thousands of years old. Popular belief goes that Shri Charbhuja Ji has worshipped in Dwapar age also. For testing this miraculous status from the invaders, the idol was submerged in to water many a time. In every darshan (vewing time) a sword and shield are put up as symbols of Rajaput chivalry.
Festivals & Fairs in Temple (Main Events):
Adhering to the Vaishnava traditions, various festivals on the already prescribed days of various months are held. On the 11th day of the brights half of Bhadrapada a big fair is held here.Similarily on Holi also the festivals of colours is celebrated. Other festivals are Navaratras, Janamashtami and Ramanavami. On Nights of Navaratras, Gharava dance and other cultural festivals and functions are held with real and gust.