Brief of the Deity:

Lord Krishna and Radhika. The idol of Lord Krishna is in black stone and that of Radha in white stone. the 35 inch high statue stands on pedestal 20.50 inches wide and 10 inches high. The idol of Shri Krishna is 51 inch high and stands on 11 inch high platform.
Religious sect to which the temple belongs:
The temple belongs to the Ballabha PustiMargi sect of the Vaishnavas.
Architecture of the Temple:
Important Architectural Characteristics:
Made of white marble. The Shikhar of the temple is very high on the walls at site and with him beautiful statue can be seen. This shows the various aspects of human beings. All stages of human life hav been

shown. One can see Ramdarbar also .Constant keertan (chanting of names) and singing of vhajans can be a great attration for the devotee visitors. Some of the engraved renes show erotic postures which remind of Khajuraho.The idol is highly attarctive.
To the west is pichhola jheel and in the south is the city palace. Shyam Jagdish temple is in north.

Material of Construction:

Marble, Stone, Lime

Total Construction Time:
12 Years
Unique features of the temple:

Festivals & Fairs in Temple (Main Events):
Festivals celebrated by the PushtiMargi Vaishnawas, the festivals of Shri Baallabhacharya ji are held here amongst the important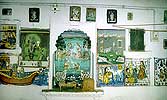 festivals are Janmasthami, Deepawali, Annakoot, Swings in the month of Shravana, Nand Mahotsava, Phagotsava , Holi, Dolls show and others.
Timings:
Morning Time:
from 7.00 am

Evening Time:

till 10.00 pm
Custom & Traditions of Temple:

The Inner place of worship is the sanctum sanctorum where the idol of Lord is enshrined out of it is Jagmohan (the prayer hall), then there is a verandah, A rasoi, for preparing bhoga for the deity is also there.

Details of Temple:
Sanctrum:(Sanctorum)
1
Rasoi:
1
Vandana (If any particular) in text:
In Accordance with Pusti Margi traditions, there are songs prescribed for every occasion, festivals, time etc. These songs or Bhajans are song at the accompaniment of music.
Issues requiring global attention for conservation, protection and improvement of the temple:

The Architecture of the temple its ornamental beauty today face decay. The rain water and the seepage there causes growth of lichen and algi. It's therefore essential that this should be cleaned under a specialist's supervision. The Gaushala at the back of the temple also requires renovation. Even the Rasoi demands repair work.
---
---
Copyright © 2001-2002 Deptt. of Devasthan, Govt of Rajasthan, Jaipur
Web Hosting by : Webzone India